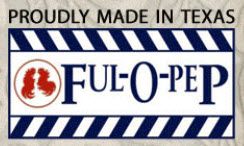 Ful-O-Pep
Ful-O-Pep grains include Whole Corn, Corn Chops, Clean Milo, Whole Oats, Steam Crimped Oats, and Wheat.
Poultry Feed: Regular Scratch, Sun Scratch, and Gamecock Feeds.
Pigeon Feed: 12%, 15%, and 17% protein.
Cattle Feed: Beef Sweet, Range Cube, and Calf Manna.
Horse Feed: Horse Sweet, Horse and Mule, Supertone 12, and Discount Dry.
Other livestock feed includes Goat feed, Hog feed, and an All Stock pellet suitable for ALL livestock.