Low Cost Vaccination Clinic
By Licensed Veterinarian, Dr. Russell Bush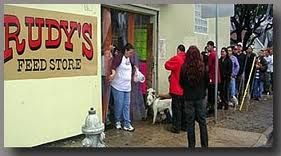 Vaccination Clinic
The Saturday Low Cost Vaccination Clinic is being conducted from 8:30 am to 12:00 pm with proper social distancing. FACE MASK IS REQUIRED and we ask that you please respect the CDC guidelines and stay 6 feet apart from others while outside and inside Rudy's Feed Store.
WE ASK THAT YOU PLEASE ARRIVE PRIOR TO 12:00 PM
Every Saturday 8:30AM-12:00PM. No appointment necessary. Walk-in, first come, first served. All animals are to be restrained with a collar & leash. If aggressive, please use a muzzle. Rudy's Feed Store or the Veterinarian are not responsible for accidents to you, or your pets that may occur on the property.